Central - Duck Lake
Scenic / Historic Tour
Visit website for tour itineraries.
Latitude: 52.77324° N,
Longitude: -106.1073° W
Trails of 1885 commemorates the significant events that occurred in 1885 during the Northwest Resistance. Visit trailsof1885.ca for information on self-directed tours, events, festivals and happenings in Manitoba, Saskatchewan and Alberta.

SHOW MORE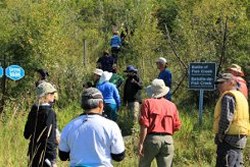 CanoeSki Discovery Company - River Trails of 1885 - 1 or 2-Day Trip - South Saskatchewan River
Rosthern, South Saskatchewan River - WC, Batoche
Jul 6, 2024 to Aug 4, 2024
Experience a historical canoeing adventure on the South Saskatchewan River and visit the national historic sites of the Northwest Resistance, where battles raged between Louis Riel's followers and the Canadian militia. From the river, hike the trail to the battle campsite near Tourond's Coulee/Fish Creek. Camp overnight at a wilderness site on the riverbank at Petite Ville, the archaeological site of an ancient Métis wintering village. Enjoy the wildlife and valley scenery as you continue canoeing downstream to the former Métis village of Batoche. At the Carlton Trail crossing, finish paddling and hike the old trail to Batoche National Historic Site, where you will visit the site of Louis Riel's short-lived provisional government with its original church, rectory and cemetery. Discover the Trails of 1885 with CanoeSki Discovery Company!

One-day trip, $215​. Two-day trip: $525. Custom departure dates for groups can be arranged.

Show more
Access
Services
Amenities
Contact Info
Phone(s): 866-467-2057 |

Visit website for tour itineraries.
Latitude: 52.77324° N, Longitude: -106.1073° W