Saskatoon
Restaurant and Dining
423 - 20th St W, Saskatoon.
Latitude: 52.12603° N,
Longitude: -106.6759° W
​Primal in Saskatoon prides itself on creating time-honoured Italian food and handmade pasta using Saskatchewan heritage grains and whole animal butchery. Reservations are strongly recommended.

SHOW MORE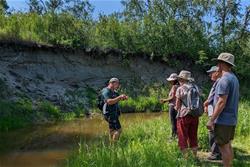 Meewasin Pollinator Walks
Jul 29, 2023 to Aug 27, 2023
Have you ever seen an insect in a flower and thought, "What are you up to…"? If you answered yes – or just love pollinators and want to learn more – this walk is for you. Join Kelton Braun, one of Meewasin's incredible environmental educators for a Pollinator Walk at Beaver Creek Conservation Area. Along the way, you'll learn abit about native plants and the pollinators that love them, and have the chance to plant your own wildflower on s​ite​. After the hike, you'll enjoy a refreshing cold drink made especially for you with help from pollinators and Meewasin's friends at Primal Restaurant. And the best part? The proceeds from your ticket support Meewasin's education and conservation efforts! 
This walking tour is limited to 16 people. It is available on July 29, August 6, 19 and 27. The tour runs 10 a.m. - 12:30 p.m.

Show more
Daily: dine-in 5 - 10 p.m., take-out 5 - 9 p,m.

Access
Food and Beverage
Casual dining
Licensed facility
Local foods
Contact Info
Phone(s): 306-974-8111 |
primalpastamanager@gmail.com

Daily: dine-in 5 - 10 p.m., take-out 5 - 9 p,m.

423 - 20th St W, Saskatoon.
Latitude: 52.12603° N, Longitude: -106.6759° W